December 2022 recap: the anti-Islamic State campaign
Raids, attacks, and end of the year statistics
Following the temporary pause in coordination caused by threats of a new Turkish operation in northeastern Syria, Coalition-SDF operations against the Islamic State resumed in mid-December. CENTCOM claimed to have carried out at least nine joint and unilateral operations by December 20th, resulting in the capture of eleven suspected Islamic State members, including one 'senior official,' and the killing of two others.
The SDF's Anti-Terror Units (YAT) and the Asayish (Internal Security) carried out numerous raids against IS cells during this period as well, allegedly leading to the arrest of several local emirs, as well as an individual involved in smuggling IS families out of al-Hawl camp.
The US was not the only member of the International Coalition to carry out anti-IS operations in Syria this past December. On the 20th an RAF Reaper drone targeted a building in central al-Bab city, wounding an IS operative identified by local media as "Abu Yasir al-Yemeni" who was reportedly taken into captivity by Turkish intelligence and local police. This was the first operation in Syria claimed by the UK since October, when a similar drone assassination targeted an IS member in Turkish-controlled northern al-Raqqah governorate. [Airwars assessment]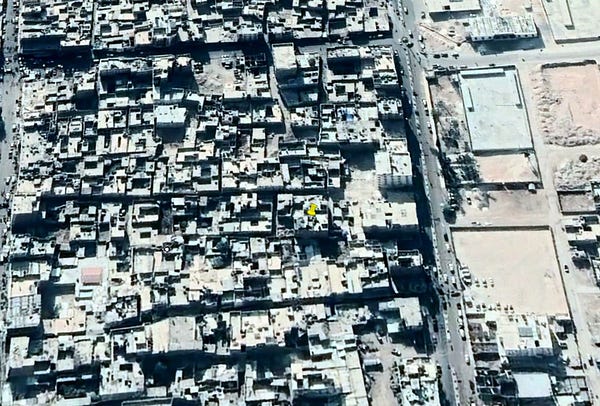 The White Helmets
@SyriaCivilDef
Scenes from our teams' response to the missile attack carried out by an unidentified drone, targeting a house in the city of Al-Bab, east of #Aleppo, today, Tuesday, December 20. https://t.co/rPHLP4iuyL
Demonstrating its continued capabilities inside Syria and within AANES controlled-territory, the Islamic State carried out an attack on an Asayish headquarters in the al-Dir'iyah neighborhood of al-Raqqah city on December 26th. According to Islamic State-affiliated A'maq Agency, the attack was carried out by two individuals, one of whom managed to flee the scene. The Asayish reported that one IS fighter was killed and another detained at the scene, while an untold amount of attacks fled to neighboring areas where two were later arrested. The attackers killed four members of the Asayish and two members of the SDF.
CCTV footage filmed during (graphic) the attack shows an IS combatant surprising an Asayish guard stationed at a side entrance to the facility. Meanwhile an ANHA segment filmed afterwards appears to show damage to the front gate. The headquarters targeted is reportedly located "near a prison holding close to 900 ISIS members."
IS carried another attack on Asayish forces three days later on the al-Karamah road between al-Raqqah and al-Hasakah cities, killing one and wounding two others.
In response to these attacks and others, the SDF announced the commencement of anti-IS security campaign 'Operation Jazirah Thunderbolt' on December 29th. Additional reports published by the SDF on December 30th and 31st reported a total of 84 suspected IS members had been arrested in the al-Hawl, Tell Hamis, and Tell Brak areas - all along the Iraqi border. Additional anti-IS raids were carried out in the al-Raqqah countryside as well.
Thanks for reading Alexander McKeever! Subscribe for free to receive new posts and support my work.
---
CENTCOM published some end-of-year figures and a press briefing with General Michael Kurilla regarding the anti-IS campaign:
Information collected by RIC regarding 2022 al-Hawl repatriations: